Rougemount Way, Rockhampton, Kingston 8 House for Sale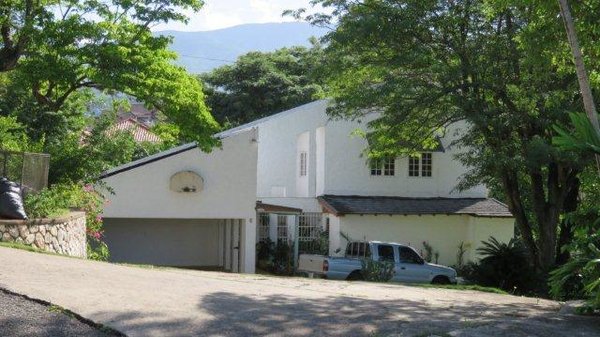 Exclusive subdivision on cul-de-sac of 9 separate 2 storey residences each of which on approx 1/2 acre adjoining.
Very well landscaped. 2 storey dwelling with 2-car covered parking Entrance walkway protected by metal grill.
Enclosed atrium opens to family / media room and living room area. Separate dining and formal living room which opens onto covered and grilled rear patio, provides access to private backyard. Paved stones and barbecue.
On the lower floor is 1 complete guest bedroom with modern bathroom. The kitchen area communicates with breakfast room, formal living room on 1 side. On the other side of the kitchen is staff bedroom and bathroom and laundry with their own separate entrance.
The grounds are well fruited and landscaped. Tamarind, avocado, naseberry, mango and guava trees among others and an orchid garden.
Upstairs
3 bedrooms, 2 baths. All have vaulted ceilings and a loft area in one of the other bedrooms. All have separate split a/c systems. House is in excellent condition.
Priced for sale: US$475,000 o.n.o.
Property Photos
Property Area Map
Inquire about this Property
Complete the form below to contact us about this listing.
You may also call our office at (876) 946-2806

Don't miss a thing!
Subscribe for free updates to this site by RSS or E-mail and you'll always know when I post a new property here. (What's RSS? Click here to find out) Also, please share it on the social media site of your choice. Sharing is fun!