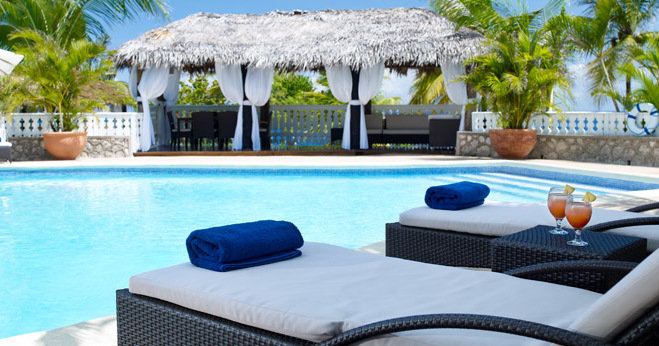 Offered for sale over 2 acres of land on the sea. 1 Acre has 4 executive four-bedroom villas with swimming pool and amenities plus their own access to the beach. Each villa is fully staffed and equipped.
Property Photos
THE ANNEX
Disposed on over 1.2 acres is this property adjacent to Golden Cove Resort on which there are 2 separate residences; one with 3 bedroom and the other with 2 bedrooms. Designated parking area and a Banquet facility, for Weddings etc, allover looking the Caribbean Sea. There is a Gazebo and stairway down to the sea. With access way into the
sea, excellent for snorkeling and fishing.
Property Photos
All units on the property have been exquisitely furnished for high end use. Ideal as a resort investment or medical rehab facility.
Fully approved for subdivision with 4 separate titles.
Ideally situated in Oracabessa, St. Mary and it is almost opposite Ian Fleming's Aerodrome.
Selling Price: US$2.9 Million plus US$650,000 for The Annex, being sold as a package deal.
Property Area Map
Inquire about this Property
Complete the form below to contact us about this listing.
You may also call our office at (876) 946-2806

Don't miss a thing!
Subscribe for free updates to this site by RSS or E-mail and you'll always know when I post a new property here. (What's RSS? Click here to find out) Also, please share it on the social media site of your choice. Sharing is fun!